Mother's Day is May 13th
We are delivering all day Saturday & Sunday (Mother's Day)....call the shop to place your order! 203-758-3393
Mother's Day is a special holiday! This special lady in our lives, is very important to us. Send her beautiful flowers from Margot's and she will know just how much she is loved.
Our website only shows a small fraction of our floral designs. If you don't see the perfect design here, just give us a call and we will help design your perfect gift! 203-758-3393
Please note that containers may vary due to availablilty.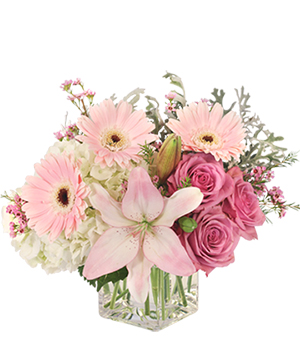 Quiet Dawn
Bouquet
Just as the sun begins peeking over the horizon, delicate ribbons of pink marble the sky and a hush falls over the world. Soft pink gerberas and roses whisper gently in the dawn of a new day and pink lilies awaken the senses with their sweet scent. Quiet Dawn embraces the beauty of new life and tokens of gratitude.