Seasonal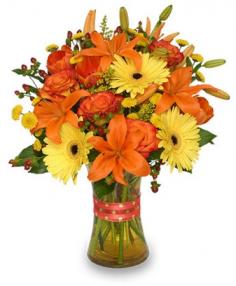 MARGOT'S FLOWERS & GIFTS creates a sunny sensation with vibrant summer flowers. Select a sizzling summer flower arrangement to add pizazz to your home or office. Send a ray of sunshine with a floral bouquet of summer flowers. Add a punch of tropical colors to your summer fun with a glorious flower arrangement. Celebrate the carefree days of summer with a crescendo of garden delights arranged impeccably in a vase. From the first bang of the season to the end of Indian summer, MARGOT'S FLOWERS & GIFTS creates a spectacular parade of colorful flower arrangements. Fun, festive and irresistible; the sheer pleasure of summer flowers awaits you in Prospect.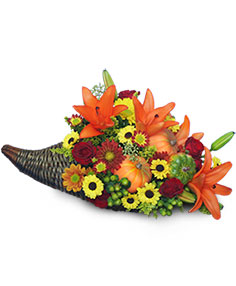 MARGOT'S FLOWERS & GIFTS creates a tantalizing seasonal potpourri of warm fall colors with their exuberant fall flower designs. Select a fall flower arrangement with glowing fall colors to illuminate your holiday season. Show a little affection with a floral bouquet of autumn flowers. If you're more daring, be a little flirtatious with a fall vase arrangement filled with copper, saffron and pomegranate colored flowers. Fall designs are perfect for any occassion.
The expressions of fall can be found everywhere in Prospect CT; but MARGOT'S FLOWERS & GIFTS captures the essence of the autumn harvest with their colorful fall flower arrangements. Whether you want a homespun delight or a festive centerpiece, fall magic is always available at MARGOT'S FLOWERS & GIFTS.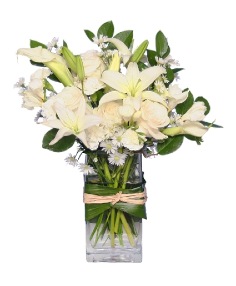 The chill maybe in the air, but MARGOT'S FLOWERS & GIFTS creates a cool elegance with winter flower arrangements. Chase away the winter blues with a selection of fresh flower arrangements to adorn your home. Celebrate the beauty of fresh fallen snow with glacier-white colored flowers, intertwined with a platinum ribbon exquisitely arranged in a vase. If you love the nighttime winter sky, bring a little star gazing to your office with an amazing 'Star Gazer' lily flower arrangement. A breathtaking display of winter beauty is found in the frosty air, moist snowflakes and billowy clouds of the season. With each floral bouquet, MARGOT'S FLOWERS & GIFTS creates a mesmerizing winter wonderland.
As always ~ choose any design from any catagory ~ your taste in flowers is what is important, not the catagory list on the side! Complete your card message and your flower choice will be delivered for your occassion. (The receipient does not see the "Name" of the design, nor the catagory your piece was ordered from).